This is the 24th year of our Summer Solstice weekend party.
The tour has returned the challenge of touring 55 miles from
Irvine
to
Carlsbad
in north San Diego county & back the next day.
The $25 tour fee covers the direct costs of the tour, transportation of luggage,
group dinner & a bicycle event with great people!
There is no SAG to sweep the course or provide food & water,
or flat repair so be prepared for your own adventure!
For more details see below or contact
Bill Sellin
by e-mail at
was@sellin.com
First get a room booked -
Then
sign up with BCI !
We can always add a dinner but you may not have a bed!
$79.99 single occupancy ($71.99 AARP) or $85.99 for double ($77.39 w AARP)
The Motel offers a single Queen bed or two Full beds in a room.
Ask for a ground floor / non-smoking room if you care!
A block of rooms had been
held for BCI GROUP until May 22nd,


so if the desk clerk says they are full, ask to be connected to the group reservation office.
Confirm & pay for your own reservations
NOW
at the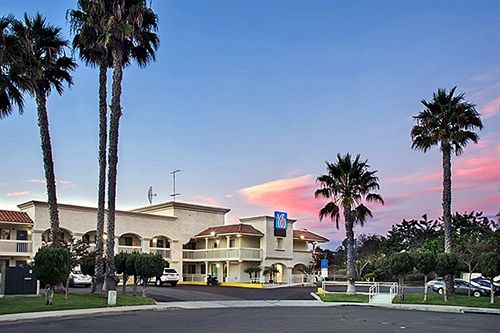 Motel 6 - South Carlsbad
750 Raintree Drive, Carlsbad CA
(760) 431-0745
or on line at:
http://motel6.com/reservations/click6.aspx
Enter Motel# 471
Those with room mates ~ book room with names of
both occupants for ease of check-in if you arrive separately.
(...and make sure they spell them right!)

ROUTE
instructions, regroups & good company make it fun and trouble free!
Starting from the
Irvine Station
we will leave at 9 AM on Saturday with a "Metric Century" ride to the motel. Traditionally the Summer Solstice Tour is the flattest route possible; You can see FINALIZED profiles & details posted on the free Ride With GPS website:
Saturday route: 54.7 miles
http://ridewithgps.com/routes/5014305
Sunday return 52.9 miles
http://ridewithgps.com/routes/5014535
Everyone finds their own snacks or lunches & breakfast on the route. There is no SAG to sweep the course, provide food & water or flat repair so be prepared to be on your own adventure & fill up before you get into Camp Pendleton.
Printable PDF Route Sheet :
SATURDAY
~
SUNDAY
Metrolink Options
: $10 Weekend Day Pass will cover any ride all day, but Irvine to San Clemente is only $8 ($4 if 65+) ! So unless you are going round trip or to Oceanside - don't buy a Weekend Day Pass...
The OC Line (600's) and IE-OC Line (800's) both roll along our route from Irvine to Oceanside.
Check in & load your bags on the truck at the station at 8AM, see everyone off @9, then catch the south bound train @ 9:53. Get off at Laguna Niguel & skip the first 9 miles. San Juan Capistrano & skip the first 13. Get off at North San Clemente & skip the first 20 miles. Get off at Oceanside & skip the first 46 miles... You could also ride the first 20 miles & get ON in San Clemente... but still get to lunch before the rest of the tourists and ride through Oceanside with much fresher legs!
SATURDAY TRAIN SCHEDULE

| | | | | | |
| --- | --- | --- | --- | --- | --- |
| Train | Irvine | LN/MV | SJCapistrano | SanClemente | Oceanside |
| 660 | 9:53 | 10:03 | 10:08 | 10:20 | 11:02 |
| 859 | 10:26 | 10:35 | 10:40 | 10:55 | 11:45 |
| 662 | 11:48 | 11:57 | 12:02 | 12:16 | 12:55 |
If you want to short-cut on Sunday, you can catch a train to Irvine on the way North:
Sleep in & have a leisurely breakfast or rise early & skip breakfast to get to Oceanside depot by 8:15 to catch a train part way or all the way back to Irvine. Ride to San Clemente, San Juan Capistrano or Laguna Niguel/Mission Viejo & board for $10 to beat those last 20, 13 or 9 miles of Summer heat !
Luggage should be at Irvine by Noon for those fast riders & those finishing off on the 665 train
SUNDAY TRAIN SCHEDULE

| | | | | | |
| --- | --- | --- | --- | --- | --- |
| Train | Oceanside | SanClemente | SJCapistrano | LN/MV | Irvine |
| 661 | 8:15 | 8:37 | 8:46 | 8:51 | 9:00 |
| 665 | 11:20 | 11:44 | 11:54 | Noon | 12:10 |
| 663 | 1:20 | 1:42 | 1:52 | 1:57 | 1:57 |
| 858 | 2:50 | 3:14 | 3:23 | 3:28 | 3:37 |
Driving Options
: Some folks knock off 20 miles by starting from San Clemente: Check in & load your bags on the truck at the station at 8 AM, see everyone off @9, then
train or drive
south & park near Metrolink or the Cafe del Sol & Carl's Jr. in San Clemente... (see train options above & park in Irvine!)
Some would rather drive all the way to the motel & do a day ride Saturday; You can check in with the crowd at the start in Irvine & get to the motel by freeway in about an hour...

BAGGAGE
:
Saturday the trailer will be ready to receive your gear when you check in after 8am Saturday. It will be waiting, locked, at the motel for you to unload when you arrive. Bring what you need but be reasonable! Everyone will be moving bags to find theirs, so a few small duffles are better than a big one.
DO bring a folding chair for dinner - you can visit the Ralph's market 2 blocks away for snacks or beverages to share at our 'happy hour'.
Sunday the truck will LOAD from 7 to 8, get to Irvine by NOON & wait until A): the last rider picks up their stuff at the earliest, or B): latest until 3:45 PM after the 858 train rolls in -
SATURDAY EVENING
When you roll in, check in, enjoy the pool or take a nap, then join the group around teh pool for some socioal time, before moving to th e parking lot for more social time, dinner & some Cosmic WimpOut. We can't eat in the pool area or lawn inside the motel, so DO bring a folding chair or be ready to sit on the ground. For those with dietary concerns, we will have Pizza's delivered (veggie & meat) and grilled chicken, salad and fruit and sodas - There is a market 2 blocks east if you need to find extra/other food or beer/wine...after dinner you can enjoy the short walk to the beach after to watch the sunset.
SUNDAY BREAKFAST
Many traditional options in Carlsbad or Oceanside including the
Beach Break
&
Nautical Bean
at Oceanside Harbor before entering Camp Pendleton.