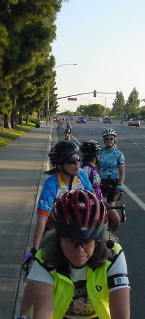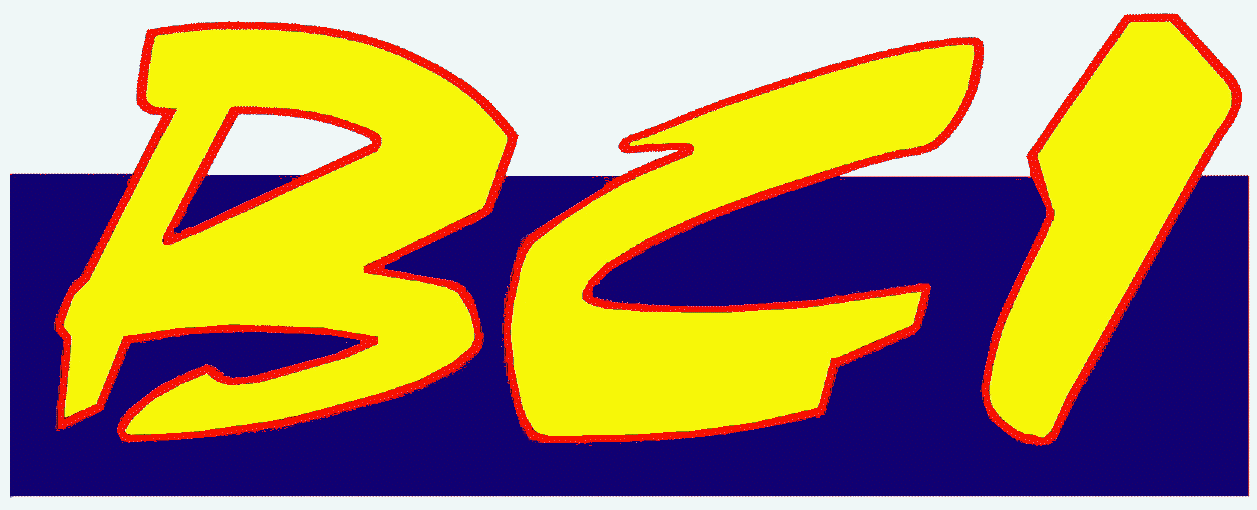 Bicycle Club of Irvine HOME

Contact Coordinator

Features:
Brian Desousa's
Helmet Cam Video:
Real Media Format
or
Windows Media Format
Kathy Shapiro's Pictures:

QuickTime Format

IRVINE, Orange County, California
---

To HONOR those who have been injured or killed
To RAISE AWARENESS that we are here
To ask that we all SHARE THE ROAD

---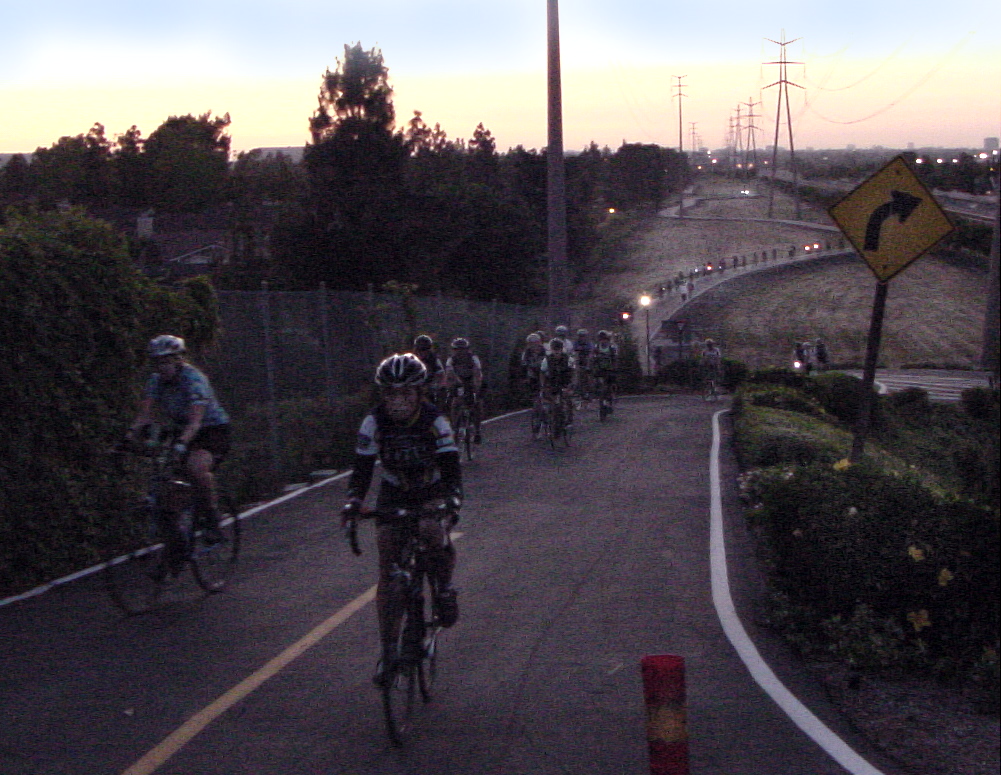 Thanks to all who 83+ who participated!

We had 37 BCI members, and 46 guests sign in,
including a bunch from the Rebel Riders
& a lot of Team in Training riders
and a gathering of other unaffiliated riders. A few more rode with out getting signed in, as they jumped in at the start.
Refreshments, Duct Tape arm bands, some Street Smarts booklets & maps etc. for all, a brief explanation of the plan, route, purpose, and acknowledgement of the event, and then we staged up in the parking lot to ride out promptly 7.
Clear and comfortable weather; calm & nice sun set; sounds of crickets, birds and the occasional interaction with others; children cheering at us, a couple of dorks who screamed at the group from their speeding car, a pair of elderly walkers who stood in amazement and applauded the parade, a motorist who seemed to know what we were doing and passed us with a continual tooting of support as he passed the line...

Bill & Dev lead the parade & tried to keep a sub 12 MPH pace, the moving average was 11.6 mph but with out a sweep or escort, all the signals broke up the parade and some folks reported speeding up to 16 - 18 mph to try & close gaps in the line. We had local police officers riding, but no signal blocking, sweep or visible escort/ intersection control... sounds like many reports of other locations included a full police escort that allowed intersections to be rolled & allowed a smoother pace.

Sun set at 7:50 - so it was getting pretty dark by 8; just over an hour getting the 12 miles in; we finished up with some nice quiet bike trail sections, and then a final mile or so of on-street bike lanes. More of us could have had lights, and the tail of the group was a bit slower and rode more dark; so maybe a shorter route next time if we start with everyone at 7 pm... (or move it up closer to commuting time so more motorists would see us?). One rider flatted & we had no plan to deal with that - sweep sounds like a good plan!

The pre-ride gathering was slowed down a bit with signing in and using red or black duct tape and labels we made as arm bands (not very visible over various jerseys for all the effort). We served coffee, carrots, banana's & some cookies & muffins at the gathering, got staged up and rolled out pretty smoothly into a totally silent parade. We talked briefly about why we were there & I have some follow up calls coming in from members of the press.If we get some pictures we will post them here. ( www.sellin.com/silence ) Brian Desousa had a helmet-cam on and as soon as we get a vmv file from him we will post it here as well. If any of you want to send pictures to post, or see any clippings from press, send them our way to post here.

Most riders were very positive about the experience, several really touched... and we thank Doug Phillips for getting us committed last May to be a part of Ride of Silence this year, and to Coach Phelan who started this ride rolling in 2003.

---
OVER 90 rides in MORE THAN 8 countries were done;
check the Ride Of Silence reports from many sites and www.rideofsilence.org
Google the Ride of Silence for a sample of the coverage across the world.
---
On a personal note;
Thank you all for trusting me with this event; I know many of you made a great effort to try something very unusual, rushed over to the ride after work in the middle of Bike to Work Week, and were all very gracious and got into the event. I also know Doug would have loved it...
I hoped we would be able to stay together, and brought a walky-talky radios. I was going to give one to Carol Lund, who immediately volunteered to be the last rider, but was not able to find it at the beginning - so I did not know how large the gaps had become in my mirror; Jess caught up and alerted me that we had dropped a flat, and one of the Team in Training leaders came up and let me know we were split up, so we slowed way down on the Walnut Trail along the tracks between Harvard & Yale; The radio would have helped but I am kind of glad to not have had to have a radio chattering so I could also be silent for the hour... thinking about how precious, brief and fragile life is, and my pleasure at being able to enjoy such a great community of cyclists for so many years.

Sincerely; Thank You; Bill Sellin (BCI#2)
---
Date: May 18, 2005
Time: 6:30-8 pm (Ride at 7:00 pm)
Where: Deerfield Community Park - 55 Deerwood West (Irvine Center Drive at Deerwood)
In IRVINE - Orange County (one of more than 90 cities across over 8 countries)
Route: Flat 12 mile loop around Irvine; on-street bike lanes and a bit of off street bike path:
Route

Route Map &

Route Sheet pdf
---
The BCI will be hosting local participation in this Event
Doug Phillips committed BCI to host this event last year,
and BCI is following through with the commitment.
At 7 pm Local Time we will join may other communities across the planet in having
a unique ride which will bring increased awareness to the streets of our home towns -
focusing on the numbers of cyclists who are killed and injured
by motorists who do not safely share the road.
We will assemble between 6 & 6:30 at Deerfield Park
share some refreshments, safety tips about safe cycling in traffic,
including a presentation by Irvine Police Officer and cyclist Dale Lawrence
then cue up for a 7 pm slow paced, single file, silent commemoration
to the riders who are no longer with us,
especially those who were disabled or killed on the road.
A pack of single file - silent riders - pacing out for 12 miles...
we hope to share this hour with each other,
and know thousands across North America
will also have marked the hour;
but also raise awareness among the many Irvine motorists
who will be witnesses of our parade.
It will be a dusk ride, Sun set is at 7:50; so wear your reflective & HiVis day glow,
& have plenty of reflectors & lights if you have them...
Depending on the crowd, plan on heading out to socialize at various eateries after the ride
Check back to this web site for post - ride info and pictures.
(send us a link to your pictures if you have any to share!)

Special Thanks to the City of Irvine;
Public Safety (Police) and Community Services (Parks & Recreation)
for participating in support of this community safety event.
---
BCI especially invites our fellow riders including the members of the
Orange County Rebel Riders
Team In Training
Orange County Wheelmen
UCI, Santiago, VeloSport Cycling Teams
and all other area groups
Please join us in this event for Irvine and all of Orange County...
Other groups or unaffiliated riders are welcome